!!! spoiler alert !!! Review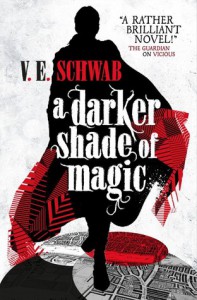 This had been on my TBR list for a while now but I finally got my hands on the library copy and it has definitely lived up to my expectations for it - A Darker Shade of Magic is one of those books where I knew within just a few paragraphs that I was going to enjoy it, when it starts describing Kell's coat that can change into other coats (reminding me a bit of the doors in Howl's Moving Castle).
The basic premise of the book is that there used to be four cities all called London, with varying levels of magic, which were connected - when things started to go wrong for one of those cities and its surrounding world, the decision was made to cut it off and now the only people who are allowed to travel between the remaining three cities are those sent by royalty to do so. We first meet one of the main characters of the book, who is one of these travelers, when he arrives in Grey London with a letter for the ailing King George III (as Grey London seems the closest to our own world, with pretty much zero magic), however we soon discover that Kell has a sideline in smuggling artifacts between worlds and it's this activity that helps get him into serious amounts of trouble as part of an overall plot-line about the rulers of one London planning to take over another.
Both Kell and the main female character, Lila, are outsiders in their respective worlds - Kell because of his magic and Lila because she is ambitious and determined to do whatever it takes to get herself a ship. As the story goes along, they end up rescuing each other and this doesn't happen because of YA insta-love (hurrah!), with Lila in particular basically stating that she's doing things for the adrenaline, though her liking for Kell and concern about him also shows through in her actions. Hopefully the author will be able to avoid falling into the stereotypes as well in the next book in the series, A Gathering of Shadows, which is due out in February 2016.